Join us in forging a new model of community life where spiritual conversation and service to others go hand-in-hand. Each of our core community-building activities aims to foster inner transformation and create wider circles of inclusion. Together, neighbors cultivate a sense of collective ownership for the spiritual, social and economic well-being of their community.
Based on a recognition of the Oneness of the Human Family, this community-building process:
Links personal growth with social transformation
Rekindles the soul's connection to its Creator
Fosters friendship and intimacy beyond barriers of race and class
Weakens prejudice
Inspires neighbors to think about each other's needs and earnestly search for solutions to shared problems
One element of the process of community-building is the "study circle" – an informal and collaborative study of course materials in an atmosphere that is at once serious and uplifting.
The first course in the series is:
Reflections on the Life of the Spirit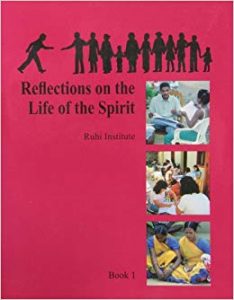 This course is largely concerned with the question of identity. What is the real identity of the "I" in the sentence "I walk a path of service"?  Aspects of identity from a Baha'i perspective are explored:
The reality of my existence is my soul which passes through this world to acquire the attributes it needs for an eternal and glorious journey towards God.
My most cherished moments are those spent in communion with God, for prayer is the daily nourishment that my soul must receive if it is to accomplish its exalted purpose.
How can I apply what I have learned to my own daily life and to the life of my community?
Reflections on the Life of the Spirit consists of the units "Understanding the Bahá'í Writings," "Prayer," and "Life and Death".
FOR INFORMATION ABOUT THE NEXT CLASS, OR TO REQUEST ONE WITH YOUR OWN GROUP OF FRIENDS OR FAMILY, PLEASE CALL 425-301-7600